Swans are such graceful looking birds; they will be a wonderful choice for your wedding invitations.
The black swan artwork here was inspired by two black swans that I saw swimming together, while I was on vacation.
The swans themselves are mostly black with a bit of white on the tips of their feathers, and also on their red beaks.
The water of green and blue shows shadows and highlights.
Two Black Swans Wedding Invitations
by
CherylsArt
See this swan painting invite as a
greeting card
.
If you would prefer more white, they are also ready on these 5 by 7 inch invitations as an outline drawing.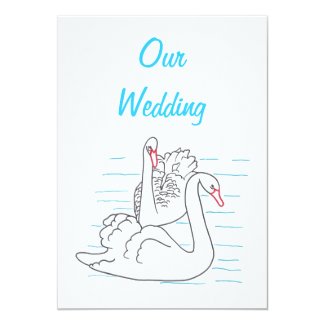 Two Swans Swimming Drawing Wedding Invitations 5" X 7" Invitation Card
by
CherylsArt
See the outline swan drawing as a
greeting card
.
You can view more products with both of these
black swan designs
, by CherylsArt, at Zazzle. If you would like either design on any additional products you can let me know either through my Zazzle store, or via email to creative-bruhstrokes@comcast.net.
May you have a wonderful wedding and marriage.
Cheryl Paton
CherylsArt