Red is a beautiful primary color. It can be bold and bright or more subdued. Paired with feathers, can give a sense of liveliness and fun.
On this design the red feathers are mixed with a silver background, giving it a shimmery look. For an even more shiny look, you can choose from one of the shimmer card stocks.
Poppy Red Peacock Design Wedding Personalized Invitation
by
Peacocks
Find more
Poppy Red Peacock
products at Zazzle.
For a softer and more romantic look, you can pick the two red feathers standing side by side on a blended pink background.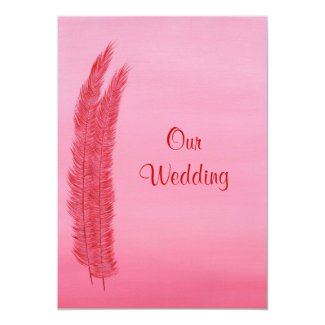 Red Pink Feathers, Our Wedding Invitations
by
Cherylsart
Check out more
Two Red Feathers
products by CherylsArt.
For a bolder look, to make more of a statement, you can pick the red feathers displayed on black.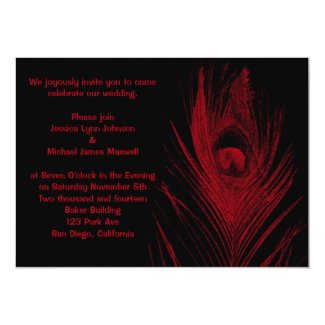 Red and Black Peacock Wedding Personalized Announcements
by
Peacocks
See more
Black Red Peacock
products by Peacocks.
The text on the above invitations is easily customizable on the template forms. You can also customize other aspects, such as the font style and color, by clicking on Customize It.
Your questions and comments are welcome.
To have any other products designed with your preferred image, contact the individual artist.
Cheryl Paton