Save the date Stickers are a simple way to let your intended guests know ahead of time to Save the date. The stickers work great in two ways. One, they are simple and light weight to mail. Two, your guests will have an easy reminder that they can stick on their calendars on the appropriate date.
Many online Save the date Stickers can be customized. So take the time to add your names and your wedding date, and your guests will have an easy way to remember when your wedding is.
This silver star pattern has a lively look to it.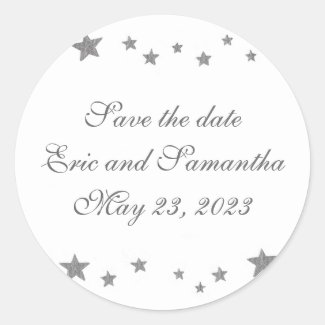 Silver Stars, Save the date stickers, weddings
by
Cherylsart
This design also comes
in gold
.
Wedding Stickers ordered from Zazzle, a print on demand company, come in a choice of two sizes. The 20 per sheet sticker size is 1-1/2 inches, a better size for calendars. The 6 per sheet size is 3 inches wide.
The green and gold blends resemble folded fabric.
The princess dress with a pumpkin carriage in the background offers a hint of whimsy.
All of the above designs can be easily personalized online, before placing your order.
Browse more Save the date Stickers by
CherylsArt
at Zazzle.com.
Cheryl Paton
www.zazzle.com/CherylsArt*/